The most affordable and easy-to-use
precision energy analyzer, now even better.
Joulescope measures current and voltage,
then computes power, energy, and charge.
Measuring energy consumption during product development is crucial, especially for battery powered and always-on devices.  However, measuring energy consumption accurately has been expensive, tedious or error-prone.
We've designed something better.  Meet Joulescope!
Joulescope measures current and voltage, then computes power, energy, and charge.  Joulescope™ enables designers, engineers, and makers to quickly and easily optimize the energy consumption and battery life of a target device. Joulescope is designed to automatically handle wide current ranges and rapid changes in energy consumption, while allowing the target device to run normally.
View instantaneous values
Joulescope captures and displays the instantaneous current, voltage, power, energy, and charge, like a multimeter.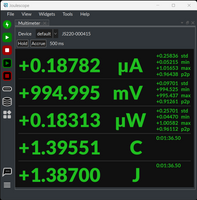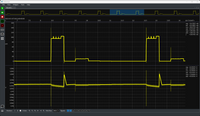 View waveforms over time
View changes over time, like with an oscilloscope.  Navigate through your data, select regions of interest, and explore where your device uses the most current and power.
All on your computer.
Joulescope connects entirely using USB with no external power adapters.  The software is free and open source.  Easily navigate your data using a mouse and keyboard.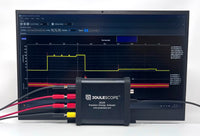 Key Features
Amazing dynamic range
Joulescope accurately measures electrical current over 10 orders of magnitude from amps down to nanoamps. This wide range allows accurate and precise current measurement for modern devices. Sleep modes are often just nanoamps (nA) or microamps (µA). Active modes are often milliamps (mA) or amps (A).
Easy to use
Joulescope reports cumulative energy and charge consumption along with real-time current, voltage, and power. The multimeter view clearly shows the most recent value while the oscilloscope view allows you to explore changes over time. Much simpler and more accurate than anything in its class!
Low voltage drop
Most multimeters and current meters have a significant voltage drop (sometimes called burden voltage or insertion loss), which affects the actual voltage delivered to the device under test. Joulescope has a total voltage drop of 25 mV at 1 A, which keeps your target device running correctly. Joulescope's extremely fast current range switching maintains low voltage drop even under rapidly varying current demands.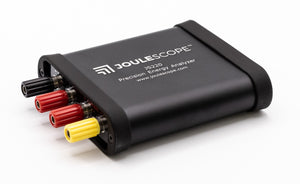 Customizable
The Joulescope host software is open source on GitHub. You can also swap the banana jack front panel with front panels that have other connector types! The front panels are open source on GitHub.
Makes the invisible visible
Joulescope measures current and voltage 2 million times per second with 300kHz bandwidth. This high sampling rate makes the power consumption of interrupt service routines, inrush currents and other short events visible.
Affordable
Joulescope is affordable and priced so that every developer on the team can have one at their desk. With such convenient access, Joulescope allows developers to see the impact of their changes on energy consumption immediately. Developers can make informed choices to account for battery life during design. Eliminate power consumption surprises during final product testing!
Joulescope is perfect for
Microcontroller current measurement and optimization
Power profiling and current profiling
Designing power-efficient software and firmware
Extending battery life
Hardware power optimization
Sleep current optimization
Hardware and software troubleshooting
Software power characterization and interrupt service routine profiling
USB 2.0 inrush and suspend current pre-compliance testing
General-purpose current, voltage, power, energy, and charge measurement
Testimonials
I've been telling almost every colleague that I wouldn't write code without a Joulescope anymore. I can actually watch a task run, an LED turn on, a radio firing, all just from the power characteristic. It's the ultimate general embedded programming/debug companion.

Mark Umina, Three Labs, LLC., threelabs.io
Joulescope has been a game changer for our power team! I let one person borrow it since I just got it but knew they could use it. Suddenly I had trouble getting it back. Now they all have one.

Jen Costillo
My Joulescope has been amazingly helpful in debugging our device. We found an overcurrent issue that caused a device freeze, and a 1 in 100 wakeup issue.

Mathieu Stephan, Mooltipass Device Creator
The Joulescope is by far my favorite piece of test equipment! If you're into hardware or embedded engineering, I highly recommend taking one for a spin.

Joshua Wright, One Man Band of Hardware, jmachina.io
Without looking at a single guide, I was able to go from unboxing to being able to answer several pressing project-related questions in under 15 minutes. I am happy to report I haven't been this impressed with something that Just Works in years. Thanks for adding a new super power to my workbench.

Nicholas
Thank you for this amazing product. Joulescope has helped me a lot with my low-power RF designs. It was not cheap but it was worth it!  Software is great. Hardware is great. Amazing!

Ing. Arturo Mtz. Lavín v., Arteko Electronics SA de CV
Joulescope's precision and fast sample rate enabled me to discover unexpected processing, and I reduced my device's energy consumption by removing this unnecessary processing.  Joulescope is now a valuable part of my toolset for debugging and verifying designs.

Frank Hunleth, VP Hardware Engineering, SmartRent Inc.
Joulescope helped me get my firmware to much lower power states faster.  Having the Joulescope's multimeter and oscilloscope view open while developing low-power firmware is now an essential part of my workflow.

Alvaro Prieto, Firmware/Hardware Engineer
While developing a library to conserve power in embedded devices, I needed a tool to prove its effectiveness. Joulescope was all I needed to easily and accurately record device power consumption and performance. It is now an indispensable part of my embedded projects.

Chris Freeze, Software Engineer, DockYard Inc